Virtual Office Assistants
We are proud to announce the new and improved Virtual Office Assistants website. Our team has come up with an improved version of the site that makes navigation easier on both desktop and mobile. This will allow organizations to understand the perks and the reasons for the popularity of virtual assistants in the modern workplace.
Our updated website offers better content and a well-thought design that aims to educate organizations and professionals about the different types of virtual assistants that we're offering. With the latest version of our site, you can now check the different types of virtual assistants and have a better understanding of what they can do to make your day-to-day work lighter.
Virtual Assistants For Any Job
You'll know what a virtual bookkeeper does and how they can keep your finances in order. You will also understand why it is a better alternative than hiring someone who will work for you full-time. In addition to this, small business owners will also gain a better understanding of why it is crucial to have a virtual assistant if you want to grow your business in a scalable manner.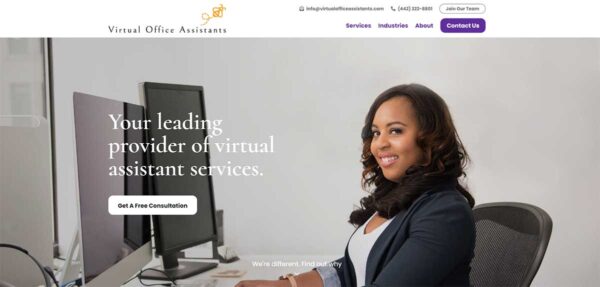 Plus, we also included pages dedicated to professionals such as independently practicing lawyers and law firms. Here, they'll know the advantages of hiring a virtual assistant who can organize their schedule, respond to emails, answer calls, and even check their current finances.
Based in America
Our updated content also explained why we're hiring mostly American virtual assistants. We explained that most of our clients are from North America. By having US-based virtual assistants, it is easier for companies to communicate with the VA in the same time zone.
And lastly, we included a page inviting experienced VAs and those who want to explore a new career to send their resume. Virtual Office Assistants is willing to work even with those individuals who are new to this type of work. We'll provide them with the necessary training and make sure that they are equipped with the skills needed for the job.
Is your organization looking to have a virtual assistant? Or perhaps, you are not sure what type of service you are going to get? Maybe, you want to become one of our virtual assistants? Feel free to contact us at (619) 343-2622 or email us at info@virtualofficeassistants.com.